About Me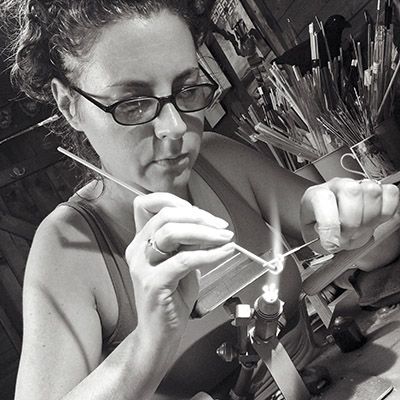 Back in the way-back-when (2004, to be exact) I saw an advert in the back pages of an American beadwork magazine that showed equipment for making your own glass beads. I was intrigued, to say the least.
I've always been a creative person and I've tried pretty much every craft going. I'd been twiddling with beads and making jewellery since I was about fourteen but at no point had it occurred to me that you could make actual factual glass beads in the comfort of your own home.

I did a lot of research, bought some books and studied the subject for weeks and weeks. I put together a very basic lampworking kit with its various components sourced from about six different places. Eventually I took the plunge and set myself up in the back garden with my Dad's trusty old Black & Decker Workmate and Horace, my beloved Hot Head torch.
I started selling my beads on eBay and I would buy new glass with the proceeds. For a couple of years, lampworking was my hobby and was my way of relaxing after work. Before beadmaking came along, my parents and I ran a small family print-finishing and mailing business but when my mum died in 2006 my dad and I decided to call it a day. Neither of us could bear the thought of carrying on the business without her. The day Mum died I decided that I would make a proper go of the beadmaking and see how things went.

Now I work most days in my shed in Cambridge on my Carlisle Mini CC torch (a lovely gift from Corina Tettinger) creating beads that I sell here on my website.

If you have any questions, please check out my FAQ page or contact me.